App Update Allows Users to Apply from Smart Phone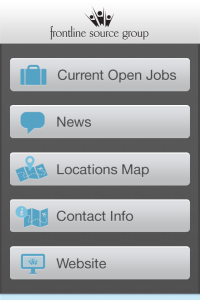 Our team here at Frontline Source Group recently announced updates to our App for both iOS and Android users, making use of the App even easier for job seekers. The App can be utilized by all candidates, as we specialize in temporary, temp to hire and direct hire placement positions. The App is free to download and now allows users to not only search open positions, but also apply right from their smart phone.
We believe the ability for candidates to apply to a position from their tablet or smart phone is what we were missing. We strive to stay innovative in the staffing industry and look forward to our candidates being able to complete the entire application process right from their phone or tablet.
Directly from the Frontline Source Group App, candidates can search open jobs in their profession, read qualifications and job descriptions and even upload a resume. In fact, the App allows multiple jobs to be selected at once, therefore only requiring the candidate to upload their resume one time.
Download our free App and begin searching jobs and applying today.
About Frontline Source Group, Inc.
Frontline Source Group specializes in matching top talented professional candidates with companies for temporary, temp to hire and direct hire placement positions primarily in the Technical Services, IT, Accounting Finance, HR, Legal, Administrative, Clerical, Medical Front Office and Energy, Oil and Gas industries.
Current Office Locations include, Texas: Dallas, Fort Worth, Arlington, Lewisville, Austin, Plano, Houston, West Houston, San Antonio, Sugarland, The Woodlands; Tennessee: Nashville, Brentwood; Arizona: Phoenix, Scottsdale.
For more information about Frontline Source Group's services, please visit our website at http://www.frontlinesourcegroup.com.